Classical Iran

Pre-Islamic and Early Islamic Literature
Pre-Islamic Persian literature consists of religious texts, the most notable of which is the Avesta, a collection of liturgic fragments, and the later Pahlavi writing of the Sassanid period. The Islamic conquest of Iran in the 7th cent. was accompanied by a linguistic infusion: one century later, approximately 50% of the Persian literary lexicon consisted of Arabic terms. As Islam became the dominant theme, Arabic became the literary language, until the emergence of local dynasties in the 10th cent. Arabic literature, literary works written in the Arabic language. The great body of Arabic literature includes works by Arabic speaking Turks, Persians, Syrians, Egyptians, Indians, Jews, and other Africans and Asians, as well as the Arabs themselves.

The first extant Islamic Persian poetry dates to the Samanid state (874–999); the first famous representative of this literature was the poet Rudaki (d. 940 or 944). To Rudaki are attributed a lost mathnawi (epic poem with rhyming couplets) version of the fables of the kalila wa dimna as well as a few qasidahs (panegyrics). Other major figures of this period are Abu Shukur of Balkh, who is credited with the introduction of rubaiyyat, Persian poetic quatrains; Daqiqi, a Samanid court poet and a precursor of Firdawsi; and Baba Tahir Uryan, author of rubaiyyat expressive of pain.
Literary Flowering and the Golden Age
The first group of major Persian poets gathered in the court of Mahmud of Ghazna and included Unsuri (d. 1040 or 1049), Farrukhi (d. 1038), Minuchihri (d. 1041), Asadi (d. c.1030/1041), and Firdausi or Ferdowsi.
The first four wrote Diwans (collections of poetry that included qasidas, long poems dealing with pre-established themes, such as spring, or long-lost loves). Asadi was a pioneer of the munazara genre—staged disputations between opposing characters or concepts. The major Persian national epic, the Shah-nama, the Book of Kings, was written by Firdawsi to celebrate the mythic pre-Islamic history of Iran, in a style that attempted to exclude usages and expressions of Arabic origin.
This formative period of Persian literature also witnessed the modest beginnings of Persian prose and the establishment of rubaiyyat and mathnawi as classical literary genres. The travelogue of Nasir-i Khusraw (d. 1088), Safar-nama, in which he relates his pilgrimage to Mecca and his travels in Syria, Egypt, and Arabia, represents the maturation of Persian prose. One of the masters of rubaiyyat was Omar Khayyam (ō`mär kīäm`), fl. 11th cent., Persian poet and mathematician, b. Nishapur. Khayyam's poetry belongs to the mystical and didactic genres that were developed by Sanai in his Hadiqat al-Haqiqa, Garden of the Truth, and that found their culmination in the work of Farid ad-Din Attar Farid ad-Din Attar (färēd` äd-dēn ät-tär`), 1142?–1220?, b.
The 11th cent. also witnessed the blossoming of the great romantic epics in Persian under masters such as Nizami (d. c.1209), who is famous for his Khamseh or quintet.
Panegyric poetry developed in the Ghaznavid court with Masud bin Sad (d. 1131), and in the Seljuq court with Azraqi (d. c.1130) and Amir Muizzi (d. 1147). The most prominent of panegyric poets were, however, Anwari (d. c.1190), court poet of prince Sanjar of Balkh, and Khaqani (d. 1199), whose poetry is reputed for its complexity. Both the political treatise Siyasat-nama of Nizam al-Mulk (d. 1092), and the ethical didactic work Qabus-nama of the Ziyarid prince Kay Kaus are representative of the more colorful style of rejuvenated Persian prose. A most important work in prose was the Chahar Maqala, Four Treatises, by Nizami Arudi (d. 1174) of Samarkand, which discusses the crafts of scribes, poets, astrologers, and astronomers.
At the heart of the Golden Age of Persian literature were the mystic and didactic works of Sadi or Saadi (both: sä`dē), Persian poet, 1184–1291. b. Shiraz and Jalal ad-Din Rumi Rumi, Jalal ad-Din (jäläl` ĕd-dēn). Also worth noting are Iraqi (d. c.1288), author of the Lamaat, a mystic compendium of prose and poetry with pantheistic inclinations, and Amir Khusraw (1253–1324), a Persian-speaking Indian poet. The culmination of the Golden Age comes with the work of the poet Hafiz Hafiz (häfēz`) [Arab.,=one who has memorized the Qur'an], 1319–1389?, Persian lyric poet, b. Shiraz.
While mysticism was the dominant strain of Persian poetry, Persian learning was emerging in philosophical, historical, and scientific writings. Persian also began to be used as a scholarly and court language in India, which subsequently attracted many immigrant Persian poets. The prominent scholars of the era include Nasir ad-Din Tusi (d. 1274), Juwayni (d. 1283), Rashid ad-Din fadl Allah (d. 1318), and Mustawfi (d. 1349).
The Silver Age and Later Works
The 15th cent. period of the second Turko-Tartar invasion and the establishment of the Timurid dynasty is considered the Silver Age, or the last episode, of classical Persian literature. This period is characterized by imitations of and commentaries on the works of the Golden Age. Among the notable literary figures were Jami (jä`mē), 1414–92, Persian poet, b. Jam, near Herat. His full name was Nur ad-Din Abd ar-Rahman Jami.
Saib of Tabriz (d. 1677), Mirza Bedil (d. 1720), an Indian writer who achieved great renown in Afghanistan and central Asia, and Ali Hazin (d. 1766), who was exiled to India. The religious and political turmoil of the 19th cent., together with the model set by European literature, led to substantial changes in form and content. Nationalist and social themes were introduced, while classical genres were reformed and challenged. Modern poets include Iradj, Abid e-Pishawari, Parwin, and Nima. Recent Persian experimentation in fiction includes that of S. Hedayet and M. M. Hejazi.
Source: http://encyclopedia2.thefreedictionary.com/Literature+of+Iran
al-Din Attar. The Conference of Birds (Penguin Classics, 1984).
Composed in the twelfth century in north-eastern Iran, Attar's great mystical poem is among the most significant of all works of Persian literature. A marvelous, allegorical rendering of the Islamic doctrine of Sufism an esoteric system concerned with the search for truth through God it describes the consequences of the conference of the birds of the world when they meet to begin the search for their ideal king, the Simorgh bird. On hearing that to find him they must undertake an arduous journey, the birds soon express their reservations to their leader, the hoopoe. With eloquence and insight, however, the hoopoe calms their fears, using a series of riddling parables to provide guidance in the search for spiritual truth. By turns witty and profound, The Conference of the Birds transforms deep belief into magnificent poetry.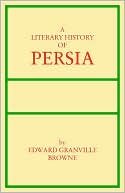 Browne, Edward Granville. A Literary History of Persia form the Earliest Time until Firdawsi (T. Fisher Unwin, 1902).
Nearly a hundred years since its publication, E. G. Browne's A Literary History of Persia remains a classic work in English on the subject. Spanning four volumes, it took Browne over 25 years to write and whilst it concentrates on Persian literature, it surveys many aspects of Persian culture from pre-history to the twentieth century. Volume one covers the period from the earliest periods of Persian history until Firdawsi (AD 935-1020) a highly revered poet. Volume two looks at the early medieval period and in particular on the poet Saadi (1184-1283). Volume three focuses on the Tartar Dominion (1265-1502) and volume four 'Modern Times' covers from 1500 to 1924.
Ferdowsi, Abolgasem. Shahnameh: The Persian Book of Kings (Penguin Classics Deluxe Edition, 2007).
Among the greatest works of world literature, this prodigious narrative, composed by the poet Ferdowsi in the late tenth century, tells the story of pre-Islamic Iran, beginning in the mythic time of creation and continuing forward to the Arab invasion in the seventh century. The sweep and psychological depth of the Shahnameh is nothing less than magnificent. Now one of the greatest translators of Persian poetry, Dick Davis, presents Ferdowsi's masterpiece in an elegant combination of prose and verse.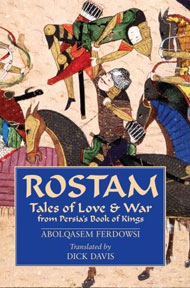 Ferdowsi, Abolgasem. Rostam: Tales of Love and War (Penguin Classics, 2009).

No understanding of world mythology is complete without acquaintance with Rostam, Iran's most celebrated mythological hero. According to the Shahnameh (the tenth-century Book of Kings), this titan, magnificent in strength and courage, bestrode Persia for 500 years. While he often served fickle kings-undergoing many trials of combat, cunning, and endurance-he was never their servant and owed allegiance only to his nation's greater good. Anyone interested in folklore, world literature, or Iranian culture will find Rostam both a rousing and illuminating read.
Gorgani, Fakhraddin. Vis and Ramin (Penguin Classics, 2009).
Believed by scholars to be the inspiration for Tristan and Isolde, Vis and Ramin was written between 1050 and 1055 and is considered the first epic Persian romance. At the heart of the story is Vis, daughter of the queen of Mah and promised to Mobad, King of Marv. Against a background of court intrigue, broken promises, and open conflict, Vis finds herself escorted to her future husband by his brother, Ramin—an impetuous prince who cannot help falling in love with his charge and jeopardizing the fate of two realms. Vis and Ramin, a masterpiece of psychological perceptiveness, is an epic with timeless appeal. Fakhraddin Gorgani was an eleventh-century Persian poet. Though little is known about his life, Gorgani's name implies that he may have been from the town of Gorgani, east of the Caspian Sea.
Guppy, Shusha. The Secret of Laughter: Mystical Tales from Classical Persia (Tauris and Company, 2008).
This magical collection of stories, gathered from the rich treasury of Persian folk and fairytales, tells of love and longing, fate and human ingenuity, loss and grace. Although sources of these tales have been lost over the ages, their memory runs through the collective psyche of the Iranian people. Handed down through generations, told by professional storytellers in bazaars and gatherings, these tales have been made popular the world over by great poets such as Rumi and Firdowsi. In her own unique voice, with style, charm and humour, Shusha Guppy narrates these timeless fables of princes and princesses; dervishes and miracle-working saints; jinns and giants; flame-breathing dragons and winged-horses; sorcerers and magicians. At the same time, beneath these charmed narratives, they reflect deep cultural and psychological insights into the attitudes, values and structures which constitute Iranian society.
Hafiz. The Poems of Hafez (Ibex Publishers, 2006).
Shamseddin Hafez, although born some six hundred years ago in southern Iran, is a contemporary and universal poet. Wherever Persian is known, he is easily recited by both King and common man. Even illiterates will recite a memorized verse of Hafez. Those uncertain about love, the future or any other situation, open a page of his collection of Poems at random and in it see their dilemmas untangled. His turn of phrase has enriched the Persian lexicon and, even more than Shakespeare in English, has entered everyday language. This has made him the Persian culture's most read, quoted and revered figure. His verse not only gives a panoramic insight into the culture of Persia but also window into understanding the universal soul.

Hafiz. The Gift (Penguin, 1999).
An extraordinary new translation of the world-renowned mystic poet Hafiz. More than any other Persian poet--even Rumi--Hafiz expanded the mystical, healing dimensions of poetry. Because his poems were often ecstatic love songs from God to his beloved world, many have called Hafiz the "Invisible Tongue." Indeed, Daniel Ladinsky, the accomplished translator of this volume, has said that his work with Hafiz is an attempt to do the impossible: to translate Light into words--to make the Luminous Resonance of God tangible to our finite senses.

With this stunning collection of 250 of Hafiz's most intimate poems, Ladinsky has succeeded brilliantly in translating the essence of one of Islam's greatest poetic and religious voices. Each line of The Gift imparts the wonderful qualities of this master Sufi poet and spiritual teacher: encouragement, an audacious love that touches lives, profound knowledge, generosity, and a sweet, playful genius unparalleled in world literature.

Khayyam, Omar. Rubaiyat (Random House, 1947).
When Edward Fitzgerald translated these 11th-century Persian poems in 1859 they became something of a sensation after one admiring reader passed them on to his friends--a circle that included Browning, Rosetti, and Tennyson. Omar Khayyam was famous in his own day as a mathematician, astronomer, and philosopher, and although his mathematical studies were once hugely influential in the West, he is known to much of the world today as a poet, and his Rubaiyat as the chief exemplar of the Arabic verse form "roba'i," a poem composed in quatrains in which the first, second and fourth lines rhyme.

Nizami. The Story of Layla & Majnun (Omega Publications, 1996).
An excellent translation of Nizami's 12th century poetic masterpiece of the legend of the romantic fool. Tale of the ideal lover, and allegory of the soul's search for God.
Rumi, Jalal al-Din. Essential Rumi (HarperOne, 1997).
A comprehensive collection of ecstatic poetry that delights with its energy and passion, The Essential Rumi brings the vibrant, living words of famed thirteenth-century Sufi mystic Jelalludin Rumi to contemporary readers. Coleman Barks, the translator of the volume is a renowned poet who taught English and creative writing at the University of Georgia for many years. His appearances on Bill Moyers's two PBS poetry series brought him wide acclaim. He now focuses on writing and on performing Rumi poetry in readings and concerts.

Rumi, Jalal al-Din Rumi. The Masnavi: Books I and II (Oxford World Classics, 2008).
Rumi's Masnavi is widely recognized as the greatest Sufi poem ever written, and has been called "the Koran in Persian." The thirteenth-century Muslim mystic Rumi composed his work for the benefit of his disciples in the Sufi order named after him, better known as the whirling dervishes. In order to convey his message of divine love and unity he threaded together entertaining stories and penetrating homilies. Drawing from folk tales as well as sacred history, Rumi's poem is often funny as well as spiritually profound. Book Two is concerned with the challenges facing the seeker of Sufi enlightenment. In particular it focuses on the struggle against the self, and how to choose the right companions in order to progress along the mystical path. By interweaving amusing stories and profound homilies, Rumi instructs his readers in a style that still speaks directly to them. Jawid Mojaddedi's sparkling new verse translation of Books One and Two are consistent with the aims of the original work in presenting Rumi's most mature mystical teachings in simple and attractive rhyming couplets.
Sa di of Shiraz, Shaykh Mushrifuddin. The Gulistan (Rose Garden) of Sa'di ( IBEX Publishers, 2008).
Written some seven and a half centuries ago by Sa di of Shiraz the Gulistan or Rose Garden is a collection of moral stories divided into eight themes: The Conduct of Kings, The Character of Dervishes, The Superiority of Contentment, The Benefits of Silence, Love and Youth, Feebleness and Old Age, The Effects of Education, and The Art of Conversation. In each section stories are told from which the reader learns how to behave in a given situation. Sa di can be moral. Honesty gives God pleasure. I haven t seen anyone get lost on the right road. He may be practical. If you can t stand the sting, don t put your finger into a scorpion s hole. He is philosophical in these lines which are engraved at the entrance of the United Nations: The members of the human race are limbs one to another, for at creation they were of one essence. When one limb is pained by fate, the others cannot rest.

The Gulistan is considered the essence of elegant but simple Persian prose. For 600 years, it was the first book placed in the learner s hand. In Persian-speaking countries today, quotations from the Gulistan appear in every conceivable type of literature and are the source of numerous everyday proverbial statements, much as Shakespeare is in English.
Thackston, Wheeler M. A Millennium of Classical Persian Poetry: A Guide to the Reading & Understanding of Persian Poetry from the Tenth to the Twentieth Century (Ibex Publishers, 1994).
For a thousand years the classical Persian poetic tradition flourished, continuous and uninterrupted. It began in the great urban centers of Central Asia, Bukhara and Samarkand; and for centuries it dominated the high culture of Central Asia, Iran, Azerbaijan, Iraq, Anatolia, and the whole of the northern part of the Indian subcontinent under the Mughal Empire. It has been composed by saints, kings and beggars. It has been written in gold, poets have had their mouths stuffed with precious gems for an apt line of poetry, and the uncivilized have measured their progress into civilization by their ability to quote Persian poetry.
Persian metrical system and poetic forms are explained, and selections are given from the works of all major poets, from Rudaki in the tenth century to Bahar in the twentieth, with annotations of difficult grammatical constructions and unfamiliar allusions. Highlights include poetry by Firdawsi, Farrukhi, Farrukhi, Khaqani, Nizami, Attar, Rumi, Sadi, Hafiz, Jami, Saib, and a host of lesser-known poets.